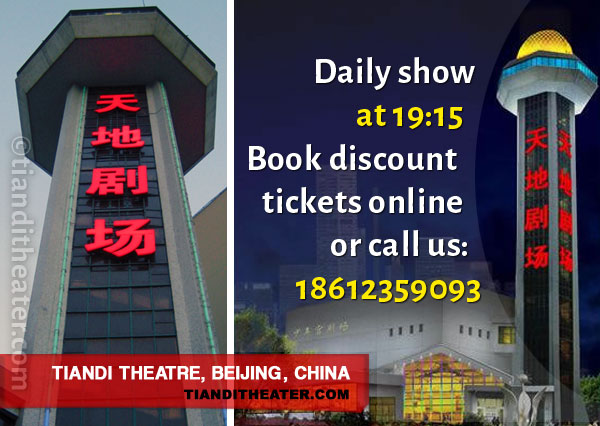 ---
Tiandi Theater Moved!
Please, note that the acrobatic show at Tiandi Theater has been moved to "DongTu Theater" in downtown Beijing. Please see the tickets page for further information and booking.
Daily show starts 5:30PM (lasts 1 hour)
---
Located in central Dongcheng District of Beijing, Tiandi Theatre is easy to get to by Beijing Subway. Find the grand theatre building with a lit tower, next to Dongsi Shitiao Station.
Tiandi Theatre Location
Address: 10 Dongzhimen South Street, Dongcheng, Beijing, China
Chinese Address: 北京东城区南大街10号 (保利大厦北100米)
Chinese name: 天地剧场 (Also known as: Heaven and Earth Theatre)
Subway access: Dongsi Shitiao Station (Line 2 / Exit B)
Show time: Every day 19:15-20:30 Show moved to Dong Tu Theater!
Beijing Subway Access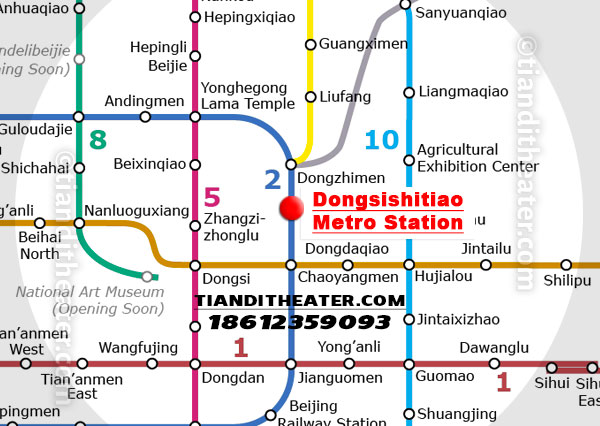 Instructions
The easiest way to get there is by Beijing Subway Line 2, market with blue coloring. Please, get off at Dongsi Shitiao Station and take the nearest Exit B. The theatre is a 5 minute walk North. Look for the grand Tiandi Theatre tower which is lit up at night (picture above).
It is also a short and inexpensive taxi ride from most downtown locations, however visitors are adviced to look for a taxi well in advance for best availability and avoidance of delay during the rush hour.